Kat Powell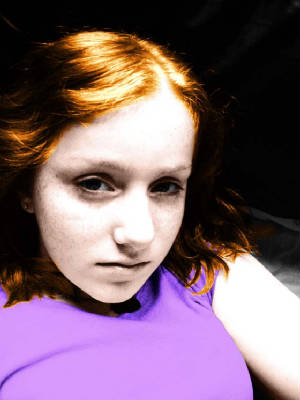 given name: Katherine (Kat) Powell
nova name: Thundergirl
affiliation: Storm Watch
nature: visionary
eruption: realization

born: April 10, 1990 in NYC, NY
height: 5'3"
weight: 110 lbs
hair: short, red
eyes: greenish-blue
skin: fair and freckled slightly
distinguishing marks: she doesn't really have any ... no tattoos, no massive scars, no birthmarks shaped like states ... only a dusting of freckles across her nose.
appearance notes: her hair is red and short, not quite touching her shoulders. She usually pulls her hair back when she's inventing something. She has no piercings and she usually does not wear jewelry at all. She dresses very simply, but in bright colors.
Thundergirl costume: Her Thundergirl uniform is a full-body suit of bright blue and light purple, with two yellow lightning bolts running down the front. She wears a belt with her symbol on the buckle: a light blue cloud in a darker blue sky, shooting a yellow lightning bolt, with the letters TG in purple.
Role-playing
Personality
Kat is imaginative and needs creative outlets; however, she often has her head in the clouds. She is imaginative, intelligent, creative, curious, insightful and expressive; full of wonder and inspiration.

Kat is very concerned with the communication of ideas. She is witty and likeable but can also be quite shy. She is easily bored and easily distracted, and may seem unpredictable and superficial for this reason. Actually she is very deep and is usually trying to find the connections between the people and things around her. She is highly imaginative but not very practical. She loves knowledge for its own sake and is not concerned about putting it to use. She is socially astute and sensitive to others' feelings, but she may still appear somewhat aloof. She is drawn to grand schemes for unifying people but these often don't extend beyond the initial idea.
Kat is prone to a sense of stagnation due to lack of motivation and laziness. Nothing durable is ever produced. Practical activities may never be embarked upon. There is an underlying sense of futility and hopelessness. Disillusionment results from her lack of confidence that she can change anything for the better, and in any case she does not have the will. At the same time there is an underlying grandiosity and even megalomania reflected in her dreams and aspirations. She needs to feel special. Instead, she may simply overindulge or neglect herself physically.

Text taken from Llewellyn Magical Personality Quiz.
Nature
Visionary
You have a goal only you can see, something to which you've dedicated your life. You may be a spiritualist, philosopher or inventor, but whatever you are, you search for something more. You create new possibilities by seeing beyond the bounds of conventional imagination. Though you are full of new ideas, your head is often among the stars.

Text taken from Aberrant rulebook.
Personal Quotes
Don't say I'm out of touch with this rampant chaos - your reality. I know well what lies beyond my sleeping refuge; the nightmare I built my own world to escape.
Imaginary, Evanescence

Can't help it if I space in a daze, my eyes turn out the other way. I may switch off and go in a daydream. In this head my thoughts are deep, sometimes I can't even speak. Would someone be and not pretend? I'm off again in my world.
My World, Avril Lavigne
Theme Song
Wild ...
Wild ...

I go wild 'cause you break me open
Wild 'cause you left me here
I go wild 'cause your promises are broken

Wild because the chips are down
Wild because there isn't anybody else around
Wild when the waves start to break
And God knows they're breaking in me now

I go wild because it doesn't make sense
For me to cry out in my own defense
And wild because I would do anything
To tear you off your precious fence

So this is what it's like living in limbo
First I'm high then I'm solo

I go wild 'cause you break me open
Wild 'cause you left me here
I go wild 'cause your promises are broken
Wild when I know you're near
I go wild
I go wild

Tell me what you've come for
Moving like a hunter through my back door
Leaving the perfume of all you adore
To die nameless on my floor
Yeah well we both know that you don't play fair
I guess you really think that you get me there
Let's be honest, perhaps this little ride
Is too much for even you to bear

You've got some nerve to come back here
You're not the only one who can smell fear

I go wild 'cause you break me open
Wild 'cause you left me here
I go wild 'cause your promises are broken
Wild, don't you get it dear?
You're not the only one who lives on instincts
No, I've got instincts of my own

You've got a lot of nerve to come back
Plan your attack
Yeah, I am still waiting
Did you want something?
You wrote the rules to try to contain me
You broke 'em, now you have untamed me
And I'm wild
I go wild

Tell me what you've come for
What is it you adore
Won't you tell me?
What would you cry for?
Swallow your pride for?
What would you ... go wild for?

You've got a lot of nerve to come back here
Speak up, my darling, I have been waiting

I go wild 'cause you break me open
Wild 'cause you left me here
I go wild 'cause your promises are broken
Wild, don't you get it dear?
You're not the only one who lives on instincts
No, I've got instincts of my own

You've got a lot of nerve to come back
Plan your attack
Yeah, I am still waiting
Did you want something?
You wrote the rules to try to contain me
You broke 'em, now you have untamed me
And I'm wild
I go wild
Wild, by Poe